On a hot July afternoon in 1983, about a dozen members of a beginning Hammered Dulcimer class met at a park in Wyandotte, MI to review what they had learned together. This was the beginning of the Silver Strings Dulcimer Society. Since then, the club has grown many times over. Click here to learn more about the club history.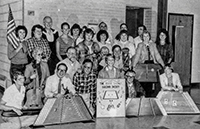 The purpose and goal of the club is to enjoy playing the hammered dulcimer together with other acoustic instruments and to promote and encourage knowledge of the hammered dulcimer through its activities, meetings, performance and newsletter. The music the club plays is an eclectic mix of traditional, Celtic and folk music, even some classical pieces. The club has a standard notation for consistency and ease of playing. Its 300+ tune library continues to grow.
Click here to hear a sampling of our music on YouTube.

Our members have a wide range of experience and ability from just starting to very experienced. Regardless of experience, Silver Strings welcomes all players of acoustic instruments and invites you to join us by visiting a meeting. Meetings are held the first and third Thursday of each month. Our meeting schedule in posted in our Google calendar. Click here If you are interested in becoming a member.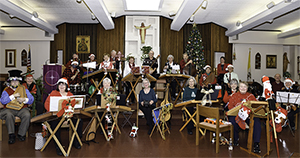 In addition to monthly meetings/jams held at Holy Cross Lutheran Church, 30650 Six Mile in Livonia MI, there are other club sponsored events: "pop-up Jams" during the summer, Facebook "Live" jams during the winter, an annual picnic that includes jamming, and an annual campout that includes workshops. Click here for our Google Events Calendar.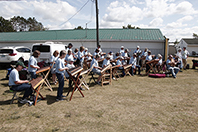 The club promotes, performs and shares its music in a variety of venues: festivals, community sponsored events, senior living centers, corporate and private functions. It also offers an interactive educational program (Meet Your Musical Heritage). To book a performance or education program, contact the Business Manager.


Contact Silver Strings Dulcimer Society